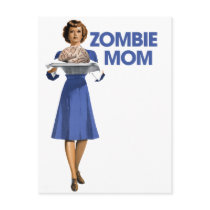 WANT THIS! BUY THIS! BE THIS!
One time I drove past a billboard and panicked that I'd turned into a zombie. As one does in zombie-panic, I called my friend Liz who has an excellent sense of style.
"I am Stock Photo Mom now."
"What?"
"I am wearing the same shirt as a woman on a billboard who serves her family a 'nutritious' meal while saying stuff like, "As a busy mother, I care about my family. So I serve them food-adjacent product X because of love and puppies and Americaand that cookie cutter societal undercurrent that made Stepford." I HAVE DONNED THE UNIFORM. THOSE ARE MY PEOPLE NOW."
"You're wearing the same shirt as a chick in a cheesy ad. Don't you think you're overreacting?"
"NO. If anything I am underreacting. What if this is A GATEWAY SHIRT?"
"That's not a thing."
"It's totally a thing. First, you buy Stock Photo Mom's shirt and you don't even notice. Before you know it, all the pants you own are three quarter length khakis. Next you start talking about creating a "unique home," you're in debt because Pottery Barn threw up all over your house, and Pinterest tricks you into having mason jars everywhere. Then you start using the phrase, "As a mother…" as a lead in for all topics EVER and you're straw-manning yourself out of all possible interesting conversation. And BAM! you're asking your husband to say "Laters,baby" and all of your dreams have been previously trademarked by Disney or subconsciously structured by Bob from marketing at Giant International Conglomerate."
"Okay… So… you want a new shirt?"

"Yes. Also some kind of Stepford test. You don't own any Stouffer's mom shirts so I'm assuming you are aware of prophylactic procedures or know how to do the test."
"It's the Stouffer's mom shirt now?"

"YES. It's the Stouffer's mom shirt now. The lady that reheats the frozen lasagna for her 2.5 kids wears this shirt while she ugly cries at Kay Jewelers' commercials. And if there were some kind of pandemic that only affected people in marketing she would aimlessly wander around crashing into walls. I AM WEARING THAT LADY'S SHIRT. I AM GENERICISING MYSELF!"
"Right… "Genericising" isn't a word. But here's the thing: the Stouffer's mom wouldn't freak out about it. She'd feel glad she could don the official uniform."

"That's true."
"Do you want to go to the mall and pick out some better outfits?"
"No. Can you just do that bit for me?"
"Um, no. But, see? The Stouffer's mom would love to go to the mall. They have a Pottery Barn."
"That's true."

And so I was talked down. *Maybe* I was overreacting. But I still live in fear of zombification. If it turns out that Bob from Giant International Conglomerate has more influence over my subconscious than I do I'll be super-pissed.
__________________