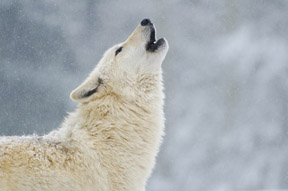 Image courtesy of Woodland Park Zoo.
Yesterday I spent the afternoon watching Liam Neeson punch wolves in the face and pondering human nature. Our collective affinity for fear has always perplexed me. We genuinely seem to like constructing worst case scenarios, embellishing them, and then not only convincing ourselves and everyone else that they're real but reveling in just how awe inspiringly terrifying their realness is.
Take, for example, the Big Bad Wolf.
While my husband took our daughter to see the wolves at the zoo yesterday, I watched "
The Grey
," a film in which Liam Neeson plays a virtuous man's man who copes with debilitating loss by righteously punching man eating wolves in the face. I've been a thoroughly unpleasant ball of stress and anxiety lately and alone time filled with escapist entertainment complete with the bonus pleasing symmetry of everyone in the family having a wolf related afternoon seemed like great balm.
While not well versed in wolf biology and behavioral science I felt confident that "The Grey" was not a documentary so much as an ode to completely unrealistic Neeson on wolf violence. My daughter is a wolf aficionado of sorts so with the vague intention of arming myself with scientific facts for future conversations with her I asked Google if any of the wolf behaviors in "The Grey" were accidentally represented accurately.
The interviews with wolf biologists pretty much all went like this:
In "The Grey" a wolf pack systematically stalks a group of plane crash survivors. How often does this happen in real life?
In all my years as a wolf biologist I have never even heard of it happening. When you encounter a wolf, especially in remote areas, they usually run away because they're afraid of humans. It's actually kind of a problem for those of us who are supposed to observe wolves for a living.
Is it true that the wolf is the only animal who will actively seek revenge?
No. Not at all. I don't even know where they came up with that. As humans we have a tendency to anthropomorphize but, ultimately, it's important to remember that wolves don't experience emotions in the same way people do.
What about the scene where two men are standing by a fire and two wolves working together charge them because they want revenge?
No. That would never happen on so many different levels several of which we've already discussed. Are you even listening?
If Liam Neeson taped broken mini-liquor bottles to his fists and then got into a fight with an alpha wolf who would win?
Sigh. How many more of these do you have? Can I just answer "No" or "That would never happen" to all of them right now to save us both some time?
Suspicions that "The Grey" was in no way educational confirmed, I thought about how we've been gleefully running with one incarnation or another of The Big Bad Wolf for years. When my four year old started listening to "Peter and the Wolf" she didn't develop a profound appreciation for classical music. She developed a fear of being eaten by wolves while she slept. At first we were able to reassure her that this wouldn't happen because wolves can't open doors due to their lack of opposable thumbs.
But then she recalled that the wolf in "The Three Little Pigs" is pretty hell bent on home invasion and she begged someone to read her a version of "Little Red Riding Hood" where the wolf dresses up in a Grandma 'suit' in the same way the "It puts the lotion in the bucket" guy from "Silence of the Lambs" does so the opposable thumbs excuse stopped working.
In exasperation I started setting a wolf trap made out of string, painter's tape, my desperate, sleep deprived tears, and a can of anchovies in front of her bedroom door every night. While mild mannered in appearance this wolf trap is 100% effective. No wolves have entered her bedroom since its construction and my child remains uneaten and reassured.
Most effective wolf trap EVER.
On the one hand wolves terrify her enough that she can't possibly sleep without the trap for fear of becoming a lupine amuse bouche but on the other hand every time she goes to the zoo she wants to see the wolves. I wonder how much it's the actual wolves that terrify her and how much it's the obviously fantastical murderous human taxidermist wolf concept that she's encouraged herself to think about. By virtue of getting the cat stuck in the closet on multiple occasions she knows that four legged animals aren't so great with doors. So, in her more lucid four year old moments, does she actually believe a wolf would ever show up in her bedroom?
I sat there post-Grey thinking about spending our evenings with stories of nefarious wolf home invasions and our lazy afternoons watching CGI lupine thugs. It's odd. Maybe we're like, "Sure, the economy is slowly bludgeoning my sense of security to death, there's an arsonist in the neighborhood, and cancer is a thing. But the Genghis Khan of wolves isn't currently exacting revenge on me. And he totally *could* be because highly targeted, super violent wolf plots are definitely something that happens all. the. time. So let's just relax and count our blessings."
It occurred to me that it's kind of amazing and beautiful that even with all the stress and anxiety right now I can do things like spend an afternoon being soothed by Liam Neeson punching wolves in the face while my child takes comfort in the notion that The Big Bad Wolf she goes to such lengths to seek out will never touch her and everything will be okay because we have string, tape, and canned fish at home.
Amazing and beautiful. But weird. Which is coincidentally also a fairly accurate global statement about human nature.
_____________________