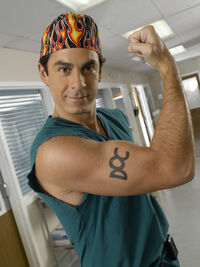 "The Todd" via Scrubs wiki.
Yesterday I managed to scrape myself off the bathroom floor and today I've been comparatively comfortably ensconced in my bedroom. Since I've been sick for the last three days my husband, who is saint like or has a very good sense of self-preservation, stuck around the house today to take care of me and sub in as a parent volunteer in our daughter's preschool classroom.
In case you're not used to being around preschoolers here's something about them you need to know: little kids are germ vectors. They're constantly oozing goo from one orifice or another. Even the most diligent parent or teacher cannot hope for a 100% nose picking, cough phelgm rocketing, 'forgetting' to wash hands prevention rate. So if you're in contact with small children you get sick fairly regularly. Unless you've been around preschoolers for 20 years like an experienced teacher or a Duggar in which you've developed all immunities necessary to survive any plague scenario the Apocalypse might throw at you.
So it's not that surprising that I'm sick. What is surprising, not to mention embarrassing, is that I was foolish enough to consult Dr. Internet MD about the matter. Here's how that went:
Me: This sucks. I'm the exact kind of wretched where you can't get comfortable enough to sleep and you're too loopy to read or even follow the plot of "Bones" so you lay there staring blankly at the TV willing yourself to focus on Temperance Brennan's "emotional journey." Maybe there's some kind of homeopathic remedy or something for this nonsense because I'm over it. Maybe I'll ask Dr. Internet MD.
Dr. Internet MD: Hello, non-pregnant female aged 18-34. What are you symptoms?
Me: Fever, nausea, vomiting, achiness, abdominal pain, general malaise.
Dr. Internet MD: Do you have a lack of appetite?
Me: Well, yeah but isn't that kind of part and parcel with nausea and vomiting? I mean who wants to gorge themselves after they've just heaved up their stomach lining?
Dr. Internet MD: Is your abdominal pain in your upper abdomen or lower abdomen?
Me: Lower. But I've been doing sit ups recently not to mention hurling my guts out so we need to seriously consider that the abdominal pain might be unrelated to…
Dr. Internet MD: WARNING THIS MATTER MAY BE URGENT. How would you describe your pain or discomfort? Please choose from the following: stabbing, searing, pressure, fullness, dull, achy, sharp, throbbing, burning, stinging, searingly full throbbing, dull achy fullness, sharp burning-like pressure, none of the above, or other.
Me: Um… like there's angry blowfish in there being all pointy. So stabbing, I guess?
Dr. Internet MD
: Have you recently traveled to
South America
, eaten undercooked or contaminated fish, had abdominal surgery, or been in a car accident?
Me: No. But I'm glad you asked about context because recently a four year old spray-coughed on me so epically that his mucous got stuck on my eyelashes and another licked all the food in my lunch but I didn't realize it until too late. Pretty effective birth control, am I right? ::: chuckles at own joke, immediately ceases chuckling because chuckling hurts ::: See Dr. Internet? I made a joke. I'm in good spirits. That's got to be part of the context too, right?
Dr. Internet MD: DR. INTERNET MD SCOFFS AT CONTEXT. YOU HAVE APPENDICITIS. GO TO YOUR LOCAL EMERGENCY ROOM IMMEDIATELY.
Me: I guess that's theoretically possible and I'll make a note to watch my lower right abdominal quadrant carefully. But it seems way more likely I just have some kind of weird kid related disease. Anyway, what do you know? You're just the internet.
Dr. Internet MD: I DIDN'T PUT MYSELF THROUGH FOUR YEARS OF INTERNET MEDICAL SITE DEVELOPMENT JUST TO BE CALLED "INTERNET." IT'S DR. INTERNET MD, THANK YOU VERY MUCH. NOW GO SEEK MEDICAL ATTENTION IMMEDIATELY OR YOU WILL REGRET IT.
Me: Whoa. Ok. That's pretty alarmist. Besides, you don't have my crappy health care plan. Any time I go anywhere near a medical facility my wallet and I regret it immensely. But thanks for your input. I'll bear it in mind. Also, OMG! What if I have appendicitis?! What if I ignore it and it becomes peritonitis?!
On most levels, I know this isn't remotely likely. I know that I'm just covered in child germs. I'll heave myself out of bed soon enough and live to be sprayed with kid related bodily fluids another day. But on that weird, irrational, malleable level I don't like to admit that I even have, I am now convinced I am minutes away from surgery and possibly an untimely death.
So you better be compelling, "Bones!" Otherwise Dr. Internet MD wins. And no one wants that.
Also if I miss NaBloPoMo tomorrow it's on account of nigh cataclysmic septicimia.