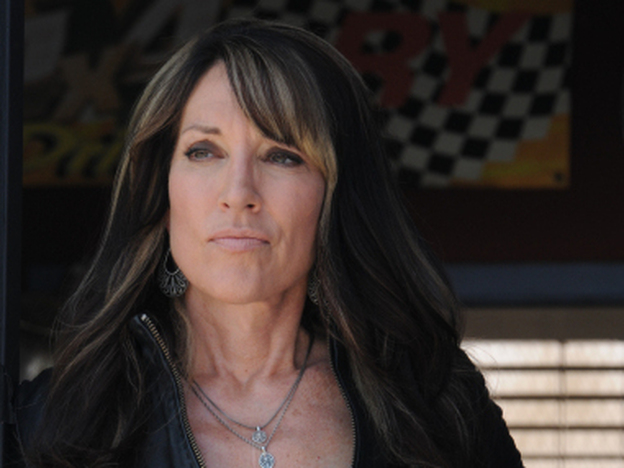 Visual approximation of author.
Gemma Teller-Morrow recently inspired me to make a soul sucking-ly Martha Stewart-esk interior design choice. That sounds crazy. Which it is.
Motherhood came with its fair share of crazy and a lot of surprises. Some of this, like feeling a fierce love for my family, was expected. Some, like gaining an affinity for pulpy, ultra-violent TV shows, was not foreshadowed by "Chicken Soup for the New Mom's Soul" and baby showers though in a way my new found love of stylized TV-MA fare was a direct result of increased exposure to baby showers and people angsting over whether taking that 6 a.m. yoga class is really fair on their families. GAH! Life is not a Kay Jeweler's commercial.
So if there's a show where someone's likely to get graphically stabbed in the neck, sign me up. These kinds of things are very psychologically soothing.
Hence my love of FX's comic book Hamlet biker drama, "
Sons of Anarchy
." One of its best characters is Gemma Teller-Morrow. As the wife of the President of a violent, arms dealing outlaw gang she understands that her husband is busy stabbing everyone in the neck in his professional life so, ever the traditionalist, she supports her family by taking care of all the neck stabbing that has to be done on the home front. Gemma is the mother bear and she's not going to let anyone mess with people she loves.
She's fierce, crazy, and fantastic but Gemma is not, you know, a role model. Everything about her underscores her tendency to stab her problems away. Sure, everyone should be able to express themselves authentically but there are limits. If you exist within a culture that's less about stabbing and more about ugly crying at Kay Jeweler's commercials you don't want to be known as 'the stabby' mom. Your kid might want a play date with the ugly criers someday and then where would you be?
Some cultural norms, like acceptance of racism or homophobia, are worth pressing and some, like prohibitions against neck stabbing, are not. So if you, like me, live in a community where people are impressed by knowledge of car seat safety and recycling practices, you don't want to come off as the lady that everyone is pretty sure buys another Hummel every time she breaks someone's cheekbone. And violent Hummel collection is exactly what Gemma screams: her dress, her demeanor, her home.
My own brand of maternal crazy snuck up the other night when I was minding my own business, catching up on Gemma and "Sons of Anarchy" and noticed that the bookcase in Gemma Teller's house is exactly like the one in my living room. Oh my God. When the parents of potential playmates for my kid walk into our place they see this bookcase. I have the interior design sense of someone who stabs her problems away. That is my taste level. I hate this bookcase now. We need a new one immediately. Mine is too stabby.
I was in the grip of the crazy but knew I couldn't just drop everything and devote my time to bookcases. I've got "work" and "life" and "parenting" and "down playing the crazy" to contend with. The big stuff. Neglecting that in favor of obsessing over a stabby bookcase is worse than having a stabby bookcase.
But I still had to do something because the bookcase was just sitting there looking at me all stabby.
Then it came to me.
I will organize the SHIT out of this bookcase. Like, hardcore. In a way that screams, "There is no way a person who devotes this much time to something so nauseatingly Martha Stewart-esk could possibly in any way be similar to a Hummel collecting cheekbone breaker."
So I organized all the books by color and height. And it's kind of soul-soothingly fantastic.
Because I'll be damned if my stabby bookcase will make life more difficult for my family. Nobody messes with people I love. And watch out. I'm crazy.