I don't try to be interesting or funny. Life is both interesting and funny so if I'm trying to write about life and it doesn't read as interesting or funny then I know I'm writing it wrong.
And some days writing it wrong is all I seem to be able to do. On those days I'm pretty sure I could fuck up writing a check.
Case in point:
::: doink, doink ::: Names and identifying details have been changed to protect the innocent. The following story is fictional and does not depict any actual person or event. ::: doink, doink :::

One time, on a parenting message board I frequented, I posted that my kid wouldn't sleep so I laced her milk with Ambien but it was totally okay because it was baby Ambien and I got it from someone who I was pretty sure was a doctor and anyway it was organic. Obviously this was a fantastic parenting decision so I was going to reward myself with a girls night out because it's really important to have community support as a new parent. Anyway it's not like my kid would wake up while I was out, what with the Ambien and all, so what does it matter if there's no adults around?
Someone posted back, "Just FYI, there's not such thing as baby Ambien and how did you know this guy was doctor?"
So I replied that *obviously* there was such a thing as Ambien specifically for baby girls because the pill was little, pink, and cute. Besides, being a proactive parent, I googled baby Ambien and found no long term longitudinal, large sample size studies on actual human babies that suggested Ambien was bad for infants. I felt confident that the guy behind the WalMart was a doctor because he said he was and my mothering instincts told me he was definitely trustworthy. Plus I knew in my heart that I was making the right choice for me and my family so everyone should just be supportive of each other and stop judging.
Other people became alarmed and started expressing their concern for my child's safety in the most effective way possible – bringing people over from other websites to call me names.
Because, clearly, if you're the type of person who feeds your infant drugs you got from approaching one of the 'pediatricians' hanging out behind WalMart before abandoning your child for a night of binge drinking, what's going to change your mind is being called a DOUCHE CANOE IN ALL CAPS and seeing lots of pictures of displeased LOLCats.
::: doink, doink :::
I was writing within a context where everyone had infants. People were talking about how neither they nor their children were going to sleep for more than half an hour straight again EVER and all probably suffer neurological damage as a result. Organic baby food was either going to guarantee fantastic mental and physical growth for your offspring or, if you were in the other camp, ensure that your child would grow up to be an asshole because its parents were exactly the kind of assholes that would care about stuff like organic baby food. If your baby hiccupped it was cause for immense concern and a call to the pediatrician's emergency nurse line.
Even the concept of relaxing merited a no nonsense approach because there were INNOCENT LIVES IN OUR HANDS. And no one should make light of that EVER because motherhood is SERIOUS BUSINESS AT ALL TIMES.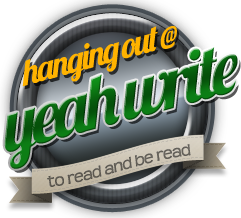 What I had intended to do was lighten the near funereal mood of the conversation by pointing out in a kind, yet humorous way that we were treating every issue that cropped up with an equal amount of gravity and perhaps, in the process, losing perspective and thus a realistic emotional grounding.
Only if you have to tell people what you intended the moral of the story to be then that's a clue that you told the story wrong. Also a clue you told the story wrong? People threatening to call Child Protective Services on you.
___________________
This post is my first link up with the Yeah Write Hang Out Grid, a place where bloggers get together to – get this! – read blogs that are well written and work on their writing. I know, right? Take that, stereotype that bloggers don't care about writing quality! Cuz thets a dum stereotype.
There's some great stuff over there. You should check it out.