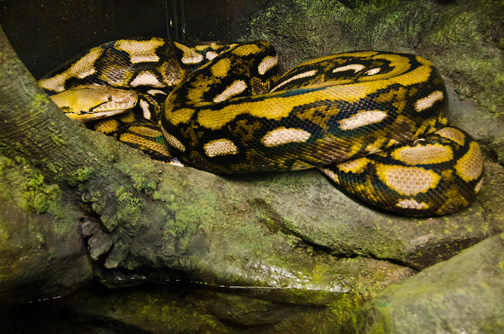 Best. Pet idea. EVER.
Photo credit: Ryan Hawk/Woodland Park Zoo
"Hey, babe? I'm double checking Susie's science homework. Listen to this:
Reticulated python (Broghammerus reticulatus):
Fun facts: Adults can grow upwards of 28 feet in length and weigh up to 300 lbs.
Conservation status: While not endangered, this snake is potentially at risk due to COLLECTION FOR THE PET TRADE.
And apparently that's the case for a lot of giant snakes and other stuff that wants to eat you. People want them as pets so badly their populations in the wild are being impacted. That's nuts! Why would people want a giant snake?"

"Wow. You can get a pet reticulated python some place? I wonder if Steve knows a guy…"
"Do you think the school would make us buy Susie's text book if I added: "People: WTF is wrong with them?" to the end of all the entries about the potentially deadly snakes who are threatened by the pet trade?"


"Yes."
"Damn."
"Hey, honey? What do you think about getting a pet snake?"
"Like a garter snake or something?"
"No. Like a reticulated python."
"Are you a Bond villain now?"
"No."
"So no. Look: pythons are cool. So are great white sharks. Doesn't mean they'd make good pets."
"These guys I lived with in college had a snake and it was actually really affectionate…"
"You know when it wraps itself around you it's not hugging you, right?"
"Come on. It would be a conversation starter."
"It would be great at starting conversations like, "Hey! You've got a giant snake. WTF is wrong with you, person who is never having my child over to play again?""
"It's not like it would be slithering around the house. We'd get it a kick ass terrarium so it'd have the right amount of light and moisture."
"That doesn't make me feel better. Look at what happened to Harry Potter when he went to the zoo and saw a snake. THE GLASS JUST DISAPPEARED."
"You know Harry Potter isn't real, right?"
"Yes. I just choose not to acknowledge that fact. Also: Voldemort was big into huge snakes. Are you Voldemort now?"
"If I said yes could we get a python?"
"No."
"Then no."
"Just imagine how much it would cost to feed and house a gigantic, potentially dangerous snake. And we'd definitely want to stay on top of feeding it…"
"I'm sure we could find a way to do it cost effectively."
"How? Mysterious disappearances of dogs that keep us up with their incessant barking and neighborhood children that break our windows?"
"Wait. You're onto something. When people kill other people what do the police need to catch and convict them? A body. And what's a hungry 28 foot python's cage if not a good place to dispose of bodies? It's even organic and environmentally friendly and stuff. Like composting but with a snake."
"Don't pythons eat like once a month and then have a big dinner shaped lump in their bodies for weeks while they digest? I'm pretty sure the cops would be able to figure out what's up if they see a suspected murder victim outlined in snake."
"Hmmm… Okay. Bear with me here. I'm getting an idea: What if we also start a meth lab?"
"WHAT?"
"Meth addicts are always super skinny and hyperactive, right? So meth must really rev up your metabolism. We could make meth and sell most of it but save some to give to the snake. That way it'd digest faster and want to eat more often."
"You want to put a giant snake on BATH SALTS?! People do all kinds of crazy zombie stuff like eat other people's faces when they're on bath salts. And you want to find out what a speedy zombie python would do?"
"No risk. No reward. Seriously. Think of the money."
"We could use some more income… I just don't think a meth snake is the best way to get there."
"Listen. This is the best business plan EVER. We'll be king pin meth dealers and no charges will ever stick because we'll feed anyone who gets in our way to our super zombie snake. We'll have to sink some of our savings in up front so we can get a facility set up. But there's this empty building over on 85th that has a 'For lease' sign out front…"
"Wait. So the snake wouldn't live at home?"
"No. That would be crazy."
"Hm. I gotta go pick up the kids now but let's put this in our g-calendar and we can talk about it more later in the week. You feel up to running some numbers then?"
"Sure. We are *totally* going to get a giant snake! And bonus: we wouldn't actually be one of those jerks who endangers the reticulated python population because of the pet trade since the snake wouldn't really be a pet so much as a business partner."
"I'm open to it."
"See? The question isn't "Why would people want a giant snake?" It's "Why wouldn't they?""
__________________
This post was inspired by the Woodland Park Zoo's app which taught me that a lot of snakes and other reptiles are endangered by the exotic pet trade and that a surprising number of people are idiots.