Beginning: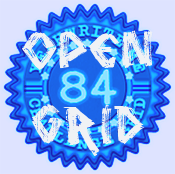 Well, Tuesday is right around the corner. If I'm going to do a Yeah Write challenge grid post I'd better do one now. And I should do one this week. The discipline is really good for me. Writing is hard but, like with most stuff, when you practice you get better. The internet does not need more vapid, ill crafted content so I feel an obligation to attempt to hone my awesome.
When you blog you are your own editor so you can basically write whatever you'd like, however you'd like. It's so easy to fall into the trap of, "Dear internet, Let me express my thoughts in the manner of someone who corners you at a cocktail party and won't shut up about the life changing epiphany she had after being touched by the words of Elisabeth Hasselbeck and the ladies of "The View."" But you don't want to be that blogger. You don't want to read like a MySpace page. You want to aim higher. You want to be the kind of blogger who inspires people to hang on your every word and say, "Tell us more about the great, wise Hasselbeck and that one thing that happened in your childhood that meant a lot to you but no one else cares about! Now please, we beg you, allow us to validate and promote you on social media."
Middle:
So if I'm going to submit a Yeah Write challenge grid post what I need is a good blog post idea. Maybe that's a bit ambitious at this point. What I need is any blog post idea at all. Because I've got NOTHING. And now that giant pile of nothing is all I can think about.
I know! I'll check Twitter. Twitter is very resourceful. I bet they haven't found the cure for cancer yet just because you can't fit it into 140 characters or less.
YeahWriter1
:
@YeahWriter2
I have to find something grid worthy.
YeahWriter2
:
@YeahWriter1
All of your posts are grid worthy. I have to work on making the post I have better.
Me: @YeahWriter1 @YeahWriter2 I'm struggling too. Do you think they'll accept a blank page? It's very lean and to the point.
YeahWriter2:
Not unless it has a good "so what."
@YeahWriter1 @Me
Me: A good "so what" is key. Maybe my blank page's "so what" is a metaphor for existential malaise? @YeahWriter1 @YeahWriter2
YeahWriter1: @Me I think your blank page could be the most popular post of #NaBloPoMo @YeahWriter2
Me: @YeahWriter1 Yes! It would be very easy to connect with and have no pacing or readability issues @YeahWriter2
YeahWriter1: I am really connecting with blankness right now. As in WTF am I going to write tomorrow. @YeahWriter2 @Me
YeahWriter2: The problem with all this is you still need something for today #NaBloPoMo@YeahWriter1 @Me
Me: You know what? At this point I'm just going to storify this Twitter conversation. Is that okay with you guys? @YeahWriter1 @YeahWriter2
YeahWriter1
:
Go for it! Just be sure to make me thin and glamorous
. @Me @YeahWriter2
Me: Naturally we will all be physically stunning, glamorous writers. My post will be a documentary. @YeahWriter1 @YeahWriter2
Twitter has solved my problem. I will write about Yeah Write. It will be, like, totally
META.
Only I don't want my fellow Yeah Writers to read it and go, "Pffft. This is Yeah Write for you? It's so cute that you think you're one of us." How has my attempt to cop out of post topic selection somehow resulted in more pressure? I even do lazy wrong.
Sigh. Ok. I need to focus up but right now all I've got in my head are Train lyrics. That's no good for anyone from a writing point of view. Not even Train. GAH! I wish I could just fast forward to the part where my post finally makes it on the grid, I read all the other posts, and I immediately regret 95% of my post's content and word choice.
End:
Endings are always the trickiest part because by this point I'm just like, "My "so what" is that I can't write but mysteriously feel the need to subject the internet to my writing. P.S. I hate you, post! DIE."
Writing at all is hard. Writing for a deadline is harder. Writing when there's a huge risk of rejection and criticism is the hardest of all. Comparing your work to the work of successful bloggers who routinely churn out effortless, infinitely readable prose is intimidating and causes creative brain freeze. This whole Yeah Write thing is stressful.
I think I'll do it again next week.
________________
Twitter conversation courtesy of Louise Ducote who blogs here and Stacie who blogs here. Both are physically stunning, glamorous writers who you should get in the habit of reading and following on Twitter. You should also check out Yeah Write and its challenge grid. None of it reads like MySpace.